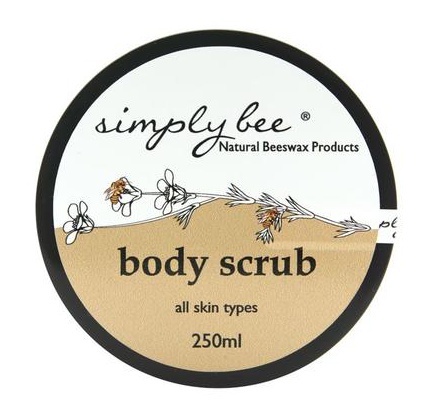 This sweet golden scrub is packed with natural goodness to pamper your skin. Simply Bee Body Scrub is made with real lavender oil and lavender buds, in a base of

sustainably sourced honey and brown sugar. Simply Bee Body Scrub is made with only natural ingredients - no harsh irritants, parabens or synthetic fragrances are added. A beautiful skincare treat from a trusted local brand.
Uploaded by: sali on
Simply Bee Body Scrub

Ingredients explained

A type fo sugar, usually refined from cane or beet sugar. On the skin, it has water-binding properties and helps to keep your skin hydrated.

You probably know olive oil from the kitchen as a great and healthy option for salad dressing but it's also a great and healthy option to moisturize and nourish the skin, especially if it's on the dry side.

Similar to other emollient plant oils, it's loaded with nourishing fatty acids: oleic is the main component (55-83%), and also contains linoleic (3.5-20%) and palmitic acids (7-20%). It also contains antioxidant polyphenols, tocopherols (types of vitamin E) and carotenoids and it's one of the best plant sources of skin-identical emollient, Squalene.

We all know honey as the sweet, gooey stuff that is lovely to sweeten a good cup of tea and we have good news about putting honey all over our skin. It is just as lovely on the skin as it is in the tea.

The great review article about honey in the Journal of Cosmetic Dermatology writes that it is arguably the oldest skincare ingredient and evidence from around 4500 BC mentions honey in some eye cream recipes. Chemically speaking, it is a bee-derived, supersaturated sugar solution. About 95% of honey dry weight is sugar and the other 5% consists of a great number of other minor components including proteins, amino acids, vitamins, enzymes, and minerals.

This ingredient name is not according to the INCI-standard. :( What, why?!

We have to start by writing how fascinated we are by the amazing lavender fields of Provance and we do love pretty much everything about lavender: its look, its color, its scent.... but, when it comes to skincare, lavender is a questionable ingredient that you probably do not want in your skincare products.

First, let us start with the pros: it has a lovely scent, so no wonder that it is popular as a fragrance ingredient in natural products wanting to be free from synthetic fragrances but still wanting to smell nice. The scent of lavender is famous for having calming and relaxing properties and some smallish scientific studies do support that. Inhaled volatile compounds seem to have a soothing effect on the central nervous system and studies have shown that lavender aromatherapy can improve patient's anxiety and experience in hospitals.
You may also want to take a look at...
A type fo sugar, usually refined from cane or beet sugar. On the skin, it is water-binding properties and helps to keep your skin hydrated.
Olive oil - an oleic acid-rich (55-83%) emollient plant oil that can moisturize dry skin. Also, it contains antioxidant polyphenols and vitamin E.
[more]
The sweet, gooey, sugar-laden stuff with skin moisturizing, soothing, antibacterial and some antioxidant properties.
[more]
Lavender - essential oil with a calming scent and antimicrobial properties. Contains fragrant components (linalyl acetate - 50% and linalool - 35%) and might be cytotoxic from 0.25%.
[more]