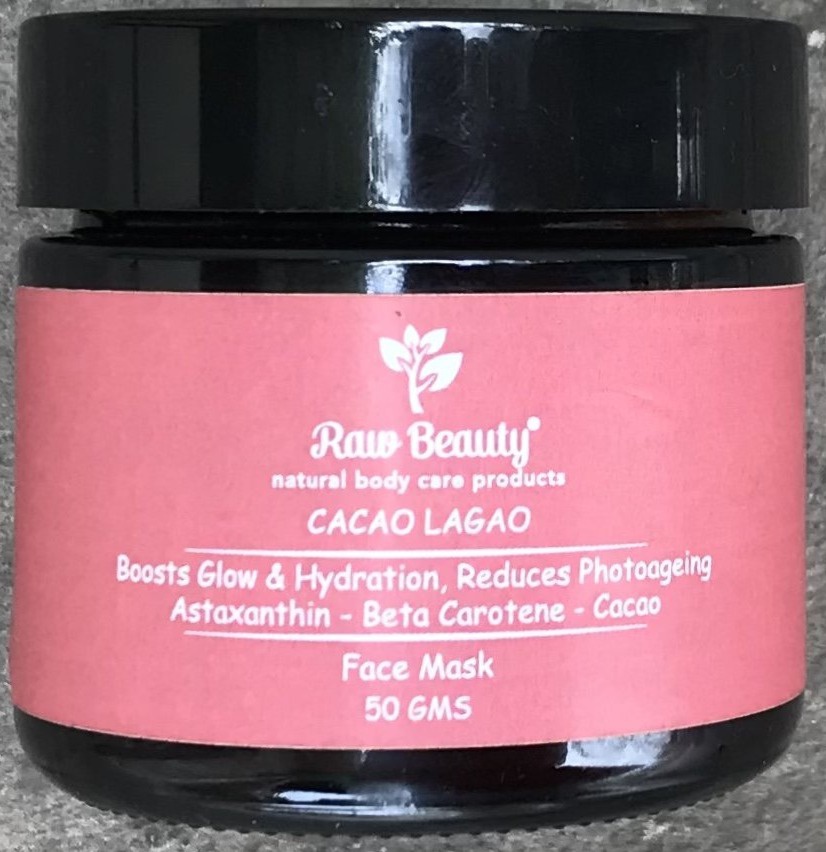 Face mask to boost glow & hydration, reduce photoageing- astaxanthin, beta carotene, cacao
Uploaded by: v on
Highlights
Fragrance and Essential Oil Free
Key Ingredients
Raw Beauty Cacao Lagao

Ingredients explained

Also-called:

Sunflower Oil;Helianthus Annuus Seed Oil

|

What-it-does:

emollient

|

Irritancy:

0

|

Comedogenicity:

0

Sunflower does not need a big intro as you probably use it in the kitchen as cooking oil, or you munch on the seeds as a healthy snack or you adore its big, beautiful yellow flower during the summer - or you do all of these and probably even more. And by even more we mean putting it all over your face as sunflower oil is one of the most commonly used plant oils in skincare.

It's a real oldie: expressed directly from the seeds, the oil is used not for hundreds but thousands of years. According to The National Sunflower Association, there is evidence that both the plant and its oil were used by American Indians in the area of Arizona and New Mexico about 3000 BC. Do the math: it's more than 5000 years – definitely an oldie.

Our intro did get pretty big after all (sorry for that), so let's get to the point finally: sunflower oil - similar to other plant oils - is a great emollient that makes the skin smooth and nice and helps to keep it hydrated. It also protects the surface of the skin and enhances the damaged or irritated skin barrier. Leslie Bauman notes in Cosmetic Dermatology that one application of sunflower oil significantly speeds up the recovery of the skin barrier within an hour and sustains the results 5 hours after using it.

It's also loaded with fatty acids (mostly linoleic (50-74%) and oleic (14-35%)). The unrefined version (be sure to use that on your skin!) is especially high in linoleic acid that is great even for acne-prone skin. Its comedogen index is 0, meaning that it's pretty much an all skin-type oil.

Truth be told, there are many great plant oils and sunflower oil is definitely one of them.
We don't have description for this ingredient yet.
You might know licorice as a sweet treat from your childhood, but it's actually a legume that grows around the Mediterranean Sea, the Middle East, central and southern Russia. It's sweet and yellow and not only used for licorice all sorts but it's also a skincare superstar thanks to two magic properties:
Nr. 1 magic property is that it has skin-lightening or to say it another way depigmenting properties. The most active part is called glabridin. The topical application (meaning when you put it on your face) of 0.5% glabridin was shown to inhibit UVB caused pigmentation of guinea pigs. Another study even suggested that licorice is more effective than the gold standard skin-lightening agent hydroquinone. All in all, licorice is considered to be one of the safest skin lightening agents with the fewest side effects.
There is just one catch regarding glabridin and licorice: the amount of glabridin in commercial licorice extracts can vary a lot. We have seen extracts with only 4% glabridin as well as 40% glabridin. The latter one is a very-very expensive ingredient, so if you are after the depigmenting properties try to choose a product that boasts its high-quality licorice extract.
Nr. 2 magic property is that licorice is a potent anti-inflammatory. Glabridin has also some soothing properties but the main active anti-inflammatory component is glycyrrhizin. It's used to treat several skin diseases that are connected to inflammation including atopic dermatitis, rosacea or eczema.
Oh, and one more thing: glabridin seems to be also an antioxidant, which is just one more reason to be happy about licorice root extract on an ingredient list.
Bottom line: Licorice is a great skincare ingredient with significant depigmenting, anti-inflammatory and even some antioxidant properties. Be happy if it's on the ingredient list. :)
We don't have description for this ingredient yet.
Kaolin is a type of clay or to be precise, a naturally occurring hydrous aluminum silicate. When you hear clay, you probably think of a muddy greenish-black mess, but that one is bentonite, and this one is a fine, white powder. It is so white that it's also often used, in small amounts, as a helper ingredient to give opacity and whiteness to the cosmetic formulas.
As a clay, it's absorbent and can suck up excess sebum and gunk from your skin, but less so than the more aggressive bentonite. As it's less absorbent, it's also less drying and gentler on the skin, so it's ideal for dry and sensitive skin types.
A natural moisturizer that's also in our skin
A super common, safe, effective and cheap molecule used for more than 50 years
Not only a simple moisturizer but knows much more: keeps the skin lipids between our skin cells in a healthy (liquid crystal) state, protects against irritation, helps to restore barrier
Effective from as low as 3% with even more benefits for dry skin at higher concentrations up to 20-40%
High-glycerin moisturizers are awesome for treating severely dry skin
Read all the geeky details about Glycerin here >>
We don't have description for this ingredient yet.
An oil-loving, red-orange colored pigment that is becoming more and more well-known as a potent antioxidant.
If being an orange-colored pigment reminds you of beta-carotene from carrots, that is no coincidence: astaxanthin also belongs to the chemical group called carotenoids known for giving yellow, orange, or red color to plants. Our guy comes mostly from microalgae, a well-known and often used source is Haematococcus Pluvialis.
So Astaxanthin's main thing is being an antioxidant. You can take it as a supplement or slather it on your skin, it works both ways. A mouse skin study from 2012 found that a liposomal Astaxanthin formula prevented UV‐induced skin damage in multiple ways: UV-induced skin thickening, collagen reduction, and melanin formation were all hindered or prevented when the skin was pretreated with the Astaxanthin formula.
Another study from 2012 examined the cosmetic benefits of Astaxanthin and found that combining oral supplementation (6mg/day) and topical application for 8 weeks in 30 volunteers showed improvements in skin wrinkle (crow's feet), age spot size (cheek), elasticity (crow's feet), skin texture (cheek) and moisture content of the skin (cheek). If that would not be enough, a 2017 mouse study found our carotenoid molecule to be effective in speeding up wound healing.
Overall, Astaxanthin is an up and coming antioxidant nice to spot on any ingredient list.
Also-called:
Coenzyme Q10;Ubiquinone
|
What-it-does:
antioxidant
Thanks to Nivea, Q10 is a pretty well-known ingredient and the fame and Beiersdorf's (the parent company of Nivea) obsession with it are not for no reason. It's an antioxidant found naturally in human cells where it plays a big role in energy production.
In fact, it's so important for energy production that if taken as an oral supplement it has a caffeine-like effect and if taken at night you will probably not sleep very well (so you should take it in the morning). Q10 supplementation is not a bad idea: it not only gives you energy but research also shows that oral Q10 increases the Q10 level of the skin (of course, it decreases with age like pretty much every good thing in the skin) and may help to reduce wrinkles. If you are not for supplements, dietary sources include fish, spinach, and nuts.
As for skincare, Q10 comes in the form of a yellow, oil-soluble powder that's shown to absorb into the upper layer of the skin and act there like an awesome antioxidant. It not only has preventative effects but might also be able to reduce the depth of wrinkles, though 0.3% Q10 was used in the study that counts as really high (products containing that much should be very yellow!).
We don't have description for this ingredient yet.
You may also want to take a look at...
Sunflower Oil - it's a great emollient that protects & enhances the skin barrier.
[more]
You might know licorice as a sweet treat from your childhood, but it's actually a legume that grows around the Mediterranean Sea, the Middle East, central and southern Russia.
[more]
A type of clay that's a fine, white powder and is used for its oil-absorbing and opacifying properties. It's less absorbent and less drying than bentonite clay.
[more]
A real oldie but a goodie. Great natural moisturizer and skin-identical ingredient that plays an important role in skin hydration and general skin health.
[more]
An oil-loving, red-orange colored pigment known for being a potent antioxidant.
[more]
Q10 - an antioxidant found naturally in human cells where it plays an important role in energy production. As for skincare, it works as an awesome antioxidant that might also be able to reduce wrinkle depth.
[more]