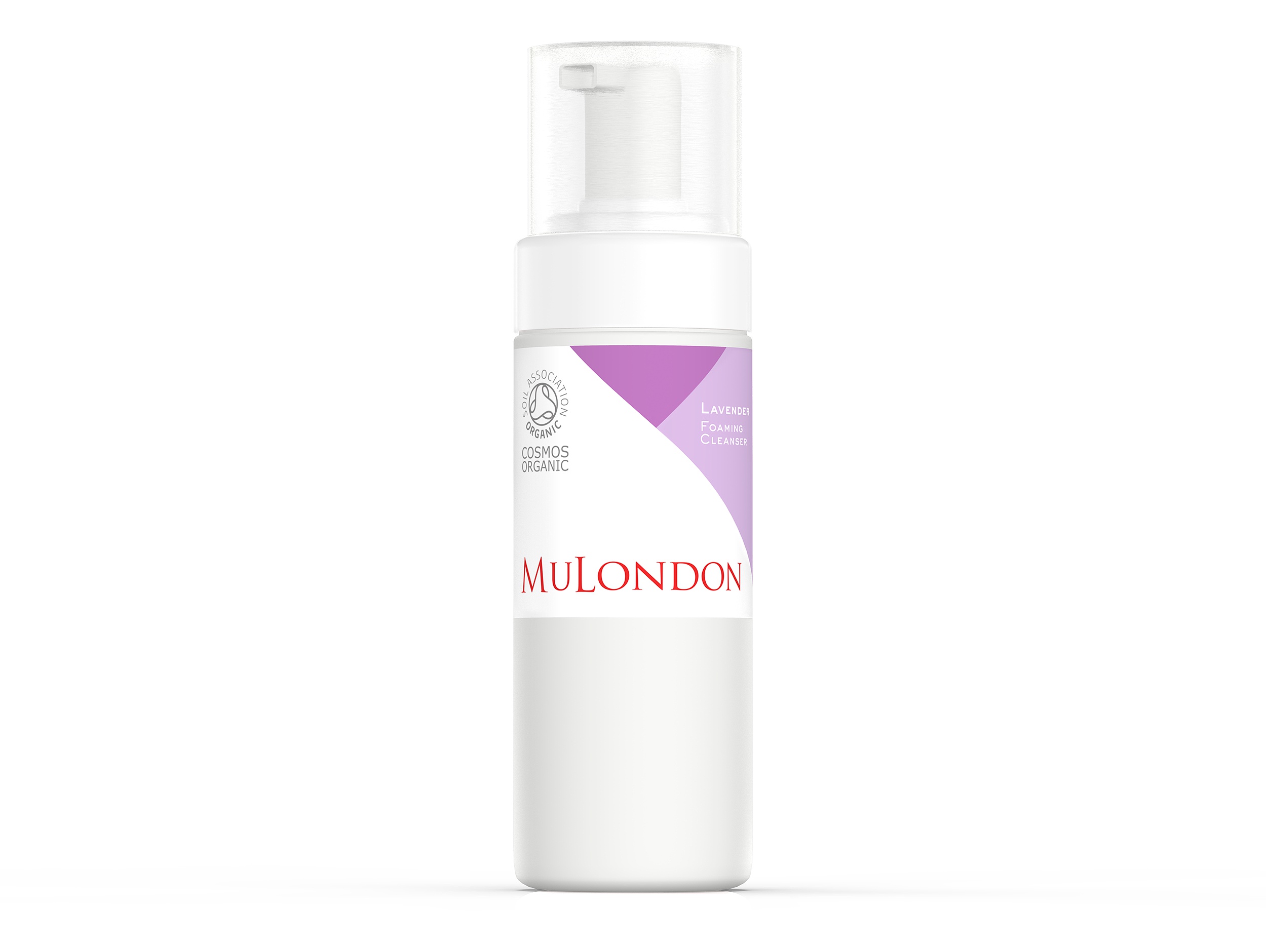 Lavender Foaming Cleanser
Balancing organic foaming cleanser with lavender, jojoba and rosemary antioxidant - to relax your mind and your skin. This light, fluffy and mild face and hand wash is packed full

of certified organic oils and herbal extracts, with the soothing fragrance of organic lavender oil. Based on certified organic castile soap, our cleansers are free from SLSs and detergents and will leave your skin squeaky clean with no sticky film residue.
Uploaded by: mulondon on
Ingredients overview
(*Certified Organic) (**Organic Origin)
MuLondon Lavender Foaming Cleanser

Ingredients explained

Also-called:

Aqua;Water

|

What-it-does:

solvent

Good old water, aka H2O. The most common skincare ingredient of all. You can usually find it right in the very first spot of the ingredient list, meaning it's the biggest thing out of all the stuff that makes up the product.

It's mainly a solvent for ingredients that do not like to dissolve in oils but rather in water.

Once inside the skin, it hydrates, but not from the outside - putting pure water on the skin (hello long baths!) is drying.

One more thing: the water used in cosmetics is purified and deionized (it means that almost all of the mineral ions inside it is removed). Like this, the products can stay more stable over time.
We don't have description for this ingredient yet.
We don't have description for this ingredient yet.
A natural moisturizer that's also in our skin
A super common, safe, effective and cheap molecule used for more than 50 years
Not only a simple moisturizer but knows much more: keeps the skin lipids between our skin cells in a healthy (liquid crystal) state, protects against irritation, helps to restore barrier
Effective from as low as 3% with even more benefits for dry skin at higher concentrations up to 20-40%
High-glycerin moisturizers are awesome for treating severely dry skin
Read all the geeky details about Glycerin here >>
Also-called:
Jojoba Oil;Simmondsia Chinensis Seed Oil
|
What-it-does:
emollient
|
Irritancy:
0
|
Comedogenicity:
0-2
Jojoba is a drought resistant evergreen shrub native to South-western North America. It's known and grown for jojoba oil, the golden yellow liquid coming from the seeds (about 50% of the weight of the seeds will be oil).
At first glance, it seems like your average emollient plant oil: it looks like an oil and it's nourishing and moisturizing to the skin but if we dig a bit deeper, it turns out that jojoba oil is really special and unique: technically - or rather chemically - it's not an oil but a wax ester (and calling it an oil is kind of sloppy).
So what the heck is a wax ester and why is that important anyway? Well, to understand what a wax ester is, you first have to know that oils are chemically triglycerides: one glycerin + three fatty acids attached to it. The fatty acids attached to the glycerin vary and thus we have many kinds of oils, but they are all triglycerides. Mother Nature created triglycerides to be easily hydrolyzed (be broken down to a glycerin + 3 fatty acid molecules) and oxidized (the fatty acid is broken down into small parts) - this happens basically when we eat fats or oils and our body generates energy from it.
Mother Nature also created wax esters but for a totally different purpose. Chemically, a wax ester is a fatty acid + a fatty alcohol, one long molecule. Wax esters are on the outer surface of several plant leaves to give them environmental protection. 25-30% of human sebum is also wax esters to give us people environmental protection.
So being a wax ester results in a couple of unique properties: First, jojoba oil is extremely stable. Like crazy stable. Even if you heat it to 370 C (698 F) for 96 hours, it does not budge. (Many plant oils tend to go off pretty quickly). If you have some pure jojoba oil at home, you should be fine using it for years.
Second, jojoba oil is the most similar to human sebum (both being wax esters), and the two are completely miscible. Acne.org has this not fully proven theory that thanks to this, jojoba might be able to "trick" the skin into thinking it has already produced enough sebum, so it might have "skin balancing" properties for oily skin.
Third, jojoba oil moisturizes the skin through a unique dual action: on the one hand, it mixes with sebum and forms a thin, non-greasy, semi-occlusive layer; on the other hand, it absorbs into the skin through pores and hair follicles then diffuses into the intercellular spaces of the outer layer of the skin to make it soft and supple.
On balance, the point is this: in contrast to real plant oils, wax esters were designed by Mother Nature to stay on the surface and form a protective, moisturizing barrier and jojoba oil being a wax ester is uniquely excellent at doing that.
We have to start by writing how fascinated we are by the amazing lavender fields of Provance and we do love pretty much everything about lavender: its look, its color, its scent.... but, when it comes to skincare, lavender is a questionable ingredient that you probably do not want in your skincare products.
First, let us start with the pros: it has a lovely scent, so no wonder that it is popular as a fragrance ingredient in natural products wanting to be free from synthetic fragrances but still wanting to smell nice. The scent of lavender is famous for having calming and relaxing properties and some smallish scientific studies do support that. Inhaled volatile compounds seem to have a soothing effect on the central nervous system and studies have shown that lavender aromatherapy can improve patient's anxiety and experience in hospitals.
Another pro is that lavender oil has some nice antimicrobial and antibacterial properties. It also has some local pain relieving and muscle relaxing magical powers. Lavender oil is also often claimed to have anti-inflammatory properties. We have found a study confirming this but it was the essential oil of the leaves and not the much more commonly used flowers and the two differ in their main chemical compounds very much. (The main components of the flower essential oil are linalyl acetate and linalool [around 80% the two together] while it is 1,8-Cineole [around 65%] in the essential oil of the leaves.)
Now, let us look at the cons: similar to a bunch of other essential oils, the main components of lavender oil are potentially irritating fragrant components. The two main components are linalyl acetate (about 50%) and linalool (about 35%) and both autoxidise on exposure to the air forming strong contact allergens. To make things even worse, lavender oil seems to be cytotoxic from concentrations as low as 0.25% (concentration up to 0.125% were ok).
There is also an often cited Japanese study that made patch tests with lavender oil for 9 years and found a huge increase in lavender oil sensitivity in 1997 (from 1.1% in 1990 to 8.7% in 1997 and 13.9% in 1998). This was the year when using dried lavender flowers in pillows, wardrobes, and elsewhere became fashionable in Japan, so it seems that increased exposure to lavender results in increased risk of sensitivity.
Overall, it makes us sad to write bad things about such a lovely plant, but when it comes to skincare, you will be better off without lavender.
We don't have description for this ingredient yet.
Also-called:
Sunflower Oil;Helianthus Annuus Seed Oil
|
What-it-does:
emollient
|
Irritancy:
0
|
Comedogenicity:
0
Sunflower does not need a big intro as you probably use it in the kitchen as cooking oil, or you munch on the seeds as a healthy snack or you adore its big, beautiful yellow flower during the summer - or you do all of these and probably even more. And by even more we mean putting it all over your face as sunflower oil is one of the most commonly used plant oils in skincare.
It's a real oldie: expressed directly from the seeds, the oil is used not for hundreds but thousands of years. According to The National Sunflower Association, there is evidence that both the plant and its oil were used by American Indians in the area of Arizona and New Mexico about 3000 BC. Do the math: it's more than 5000 years – definitely an oldie.
Our intro did get pretty big after all (sorry for that), so let's get to the point finally: sunflower oil - similar to other plant oils - is a great emollient that makes the skin smooth and nice and helps to keep it hydrated. It also protects the surface of the skin and enhances the damaged or irritated skin barrier. Leslie Bauman notes in Cosmetic Dermatology that one application of sunflower oil significantly speeds up the recovery of the skin barrier within an hour and sustains the results 5 hours after using it.
It's also loaded with fatty acids (mostly linoleic (50-74%) and oleic (14-35%)). The unrefined version (be sure to use that on your skin!) is especially high in linoleic acid that is great even for acne-prone skin. Its comedogen index is 0, meaning that it's pretty much an all skin-type oil.
Truth be told, there are many great plant oils and sunflower oil is definitely one of them.
We don't have description for this ingredient yet.
Citric acid comes from citrus fruits and is an AHA. If these magic three letters don't tell you anything, click here and read our detailed description on glycolic acid, the most famous AHA.
So citric acid is an exfoliant, that can - just like other AHAs - gently lift off the dead skin cells of your skin and make it more smooth and fresh.
There is also some research showing that citric acid with regular use (think three months and 20% concentration) can help sun-damaged skin, increase skin thickness and some nice hydrating things called glycosaminoglycans in the skin.
But according to a comparative study done in 1995, citric acid has less skin improving magic properties than glycolic or lactic acid. Probably that's why citric acid is usually not used as an exfoliant but more as a helper ingredient in small amounts to adjust the pH of a formulation.
You may also want to take a look at...
Normal (well kind of - it's purified and deionized) water. Usually the main solvent in cosmetic products.
[more]
A real oldie but a goodie. Great natural moisturizer and skin-identical ingredient that plays an important role in skin hydration and general skin health.
[more]
what‑it‑does
emollient
irritancy, com.

0

,

0

-

2
Jojoba oil - a wax ester (chemically not a real oil), that's very similar to human sebum. It's uniquely excellent at helping the skin with its protective barrier and helping it to stay moisturized.
[more]
Lavender - essential oil with a calming scent and antimicrobial properties. Contains fragrant components (linalyl acetate - 50% and linalool - 35%) and might be cytotoxic from 0.25%.
[more]
Sunflower Oil - it's a great emollient that protects & enhances the skin barrier.
[more]
An AHA that comes from citrus fruits. It is usually used as a helper ingredient to adjust the pH of the formula.
[more]