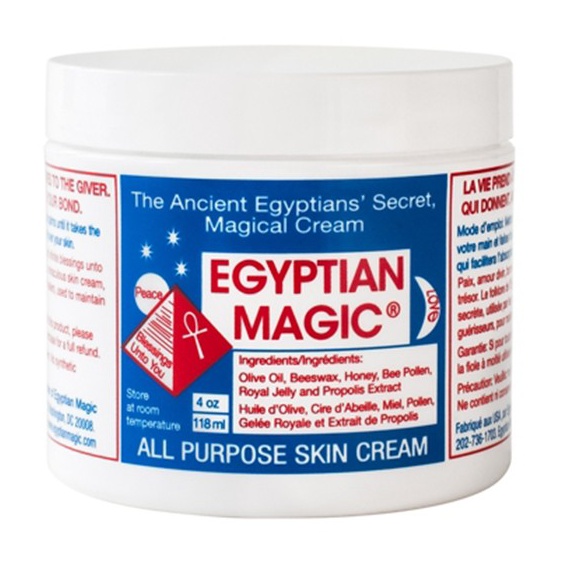 All natural cream with pure ingredients of olive oil, bees wax, honey, bee pollen, royal jelly and bee propolis.
Uploaded by: octaviab on
Highlights
Fragrance and Essential Oil Free
Key Ingredients
Egyptian Magic All Purpose Skin Cream

Ingredients explained

Also-called:

Olive Fruit Oil;Olea Europaea Fruit Oil

|

What-it-does:

antioxidant, emollient

|

Irritancy:

0

|

Comedogenicity:

0-2

You probably know olive oil from the kitchen as a great and healthy option for salad dressing but it's also a great and healthy option to moisturize and nourish the skin, especially if it's on the dry side.

Similar to other emollient plant oils, it's loaded with nourishing fatty acids: oleic is the main component (55-83%), and also contains linoleic (3.5-20%) and palmitic acids (7-20%). It also contains antioxidant polyphenols, tocopherols (types of vitamin E) and carotenoids and it's one of the best plant sources of skin-identical emollient, Squalene.

It's the yellow, solid stuff that you probably know from beeswax candles. It's a natural material produced by honey bees to build their honeycomb.

As for skincare, it's used as an emollient and thickening agent. It's super common in lip balms and lipsticks.

We all know honey as the sweet, gooey stuff that is lovely to sweeten a good cup of tea and we have good news about putting honey all over our skin. It is just as lovely on the skin as it is in the tea.

The great review article about honey in the Journal of Cosmetic Dermatology writes that it is arguably the oldest skincare ingredient and evidence from around 4500 BC mentions honey in some eye cream recipes. Chemically speaking, it is a bee-derived, supersaturated sugar solution. About 95% of honey dry weight is sugar and the other 5% consists of a great number of other minor components including proteins, amino acids, vitamins, enzymes, and minerals.

This unique and complex chemical composition gives honey a bunch of nice skin care properties: it is very moisturizing, has soothing and antioxidant abilities as well as significant antibacterial and antifungal magic powers. There is also a lot of empirical evidence with emerging scientific backup that honey dressing promotes the healing of wounds and burns.

One tricky thing about honey though, is that it can have lots of different floral sources and different types of honey have a somewhat different composition and thus somewhat different properties. For example, the darker the honey the richer it is in antioxidant phenolic compounds. Two special types of honey are acacia and manuka. The former is unique and popular because of its higher than usual fructose content that makes it more water-soluble and easier to stabilize in cosmetic formulas. The latter comes from the Leptospermum Scoparium tree native to New Zeland and its special thing is its extra strong antibacterial power due to a unique component called methylglyoxal.

Overall, honey is a real skin-goodie in pretty much every shape and form, and it is a nice one to spot on the ingredient list.
We don't have description for this ingredient yet.
We don't have description for this ingredient yet.
We don't have description for this ingredient yet.
You may also want to take a look at...
Olive oil - an oleic acid-rich (55-83%) emollient plant oil that can moisturize dry skin. Also, it contains antioxidant polyphenols and vitamin E.
[more]
The yellow solid stuff produced by honey bees to build their honeycomb. As for skincare, it's used as an emollient and thickening agent.
[more]
The sweet, gooey, sugar-laden stuff with skin moisturizing, soothing, antibacterial and some antioxidant properties.
[more]