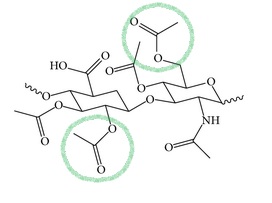 Sodium Acetylated Hyaluronate
goodie
Details
Sodium Acetylated Hyaluronate is a variation of current IT moisturizer, Hyaluronic acid, where some water-loving -OH groups are replaced by amphipathic (partly water-loving and partly water-hating) acetyl groups. The modified molecule is claimed to have even better moisture retention ability than normal HA and better affinity to the skin surface.
The better affinity comes from the acetyl groups that act as tiny "anchors" to attach the HA molecule to the skin. Staying on top of the skin better and longer means longer-lasting surface hydration and improved elasticity. It is also less sticky and more cosmetically elegant than normal HA, so no wonder the nickname of this molecule is super hyaluronic acid.
Show me some proof
Saturnino, Carmela, et al. "Acetylated hyaluronic acid: enhanced bioavailability and biological studies." BioMed research international 2014 (2014).
Products with Sodium Acetylated Hyaluronate