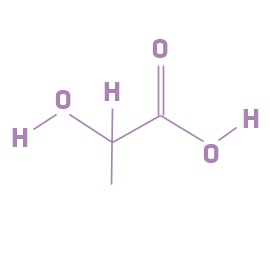 Quick Facts
It's the second most researched AHA after glycolic acid
It gently lifts off dead skin cells to reveal newer, fresher, smoother skin
It also has amazing skin hydrating properties
In higher concentration (10% and up) it improves skin firmness, thickness and wrinkles
Choose a product where you know the concentration and pH value because these two greatly influence effectiveness
Don't forget to use your sunscreen (in any case but especially so next to an AHA product)
Geeky Details
Lactic acid is the second most well-known and most well researched among the AHAs. The no. 1 is glycolic acid. If you're new to AHAs we strongly suggest that you head over to our description about glycolic acid. There you will find a super detailed geeky description and many of the things we wrote are true to all AHAs and to lactic acid as well.
Here we will focus mainly on the differences. :) But before we dive in, just a short intro.
Lactic acid is probably one of oldest actives, about which women have noticed that it has some nice benefits to the skin. Legend has it that in ancient Egypt Cleopatra bathed in sour milk. And yes, you guessed it right: sour milk is a major natural source of lactic acid.

As an AHA it's also true of lactic acid that it can gently lift away dead skin cells revealing the fresher, smoother, nicer skin underneath. This is an awesome property of AHAs and this alone makes us a total fan!
But just like glycolic acid, lactic acid also knows some more. However the "some more" is a bit different for the two of them. The differences stem from the fact that the molecule of lactic acid is larger.
Because of the larger molecule it can penetrate the skin less effectively. This means on the one hand that lactic acid is more gentle and on the other hand that the anti-aging properties are probably a little less effective.
While the collagen boosting ability of lactic acid is not so well proven there are studies that show that it also has great anti-aging properties (if used in the right concentration at the right pH).
A study done in 1996 compared a 5% and a 12% lactic acid treatment and examined their effect on the outer (epidermis) and middle (dermis) layer of the skin. The result was that both treatments had nice exfoliation effect, but the 5% treatment only affected the epidermis while the 12% treatment affected both the dermis and the epidermis.
Another study has compared multiple AHAs including lactic acid and glycolic acid in terms of skin benefits and skin irritation. The result was that both of them are very effective AHA versions (more effective than citric, malic and hydroxybutyric acids) and after six weeks of use both lactic and glycolic acid improved skin firmness, thickness and wrinkles to a similar extent.
This study also compared the different versions of lactic acid, L and D. Lactic acid is like our hands, it has "a left and a right-handed" version. Surprisingly these two versions are not equal: the L-lactic acid showed the same effectiveness with less irritation potential so that version is the better choice for a cosmetic product. BTW, the reason for this is not understood.
Other than that lactic acid has one more magic property: it's an amazing moisturizer ingredient.
In fact, it's so great with moisturizing and treating dry skin that in the USA there is even an FDA-approved, prescription product, called LacHydrin that contains 12% lactic acid to hydrate skin.
As for choosing the right product concentration and pH value is very important here too. You can read in detail about both things at the glycolic acid description. The exact same thing is true for lactic acid: pH 3-4 is the best for at-home products.
The other good-to-know things listed out at glycolic acid also apply here. The only difference: it's more gentle, so probably it will cause less stinging or burning (though it depends on the concentration and pH of course).
So bottom line: lactic acid is also a superstar. It's a gentle, moisturizing AHA that can give you a fresh, smooth, even complexion and also some anti-aging benefits. You have to give it a try if you have not done so so far!
Show me some proof
International Journal of Cosmetic Science, Volume 18 (2) – Apr 1, 1996, Comparative effectiveness of α‐hydroxy acids on skin properties
Journal of Americal Academy of Dermatology, September 1996, Volume 35, Issue 3, Part 1, Pages 388–391, Epidermal and dermal effects of topical lactic acid
Dermatologic Surgery, Volume 24 (6) – Jun 1, 1998, The Roles of pH and Concentration in Lactic Acid‐induced Stimulation of Epidermal Turnover
Leslie Baumann, MD, Cosmetic Dermatology, 2nd edition, Lactic acid, 150o, 275-276o
Products with a known amount of Lactic Acid
Other products with Lactic Acid