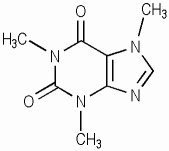 Details
Hello, our favorite molecule that helps us wake up in the morning and then keeps us going through the day. As a super well-known stimulant from coffee, tea and plenty of other soft drinks, Caffeine needs no introduction. So we will skip right to the part where we talk about what the hell it does in so-so many cosmetic products.
Looking at the research, we were surprised to find how versatile Caffeine is. It is a small, water-loving molecule with pretty good skin penetration abilties. Once in the skin, it has nice antioxidant properties, meaning that it reduces the formation of evil free radicals and it might even be useful in preventing UV-induced skin cancers.
A well-known thing about Caffeine is that it improves the microcirculation of the blood vessels. Though conventional wisdom and anecdotal evidence says that this property is helpful for dark under-eye circles and puffy eyes, we have to mention that the double-blind research we have found about a 3% caffeine gel concluded that "the overall efficacy of the selected caffeine gel in reducing puffy eyes was not significantly different from that of its gel base." But you know, the proof is in the pudding.
Another thing Caffeine is used for in body care products is its anti-cellulite effects. In theory, it can speed up the lipolysis process (the "fat burning" by our cells) and stimulate the draining lymph system that might lead to the improvement of cellulite. But here again, the evidence that it actually makes a measurable, let alone visible, improvement on actual human beings is limited (we could find only some animal skin studies or caffeine being combined with other actives).
Last, but not least, we have to write about caffeine and hair growth. The theory is that it can inhibit the activity of the 5-α-reductase enzyme that plays an important role in hair loss and allows a renewed growth phase of the hair. We have found some recent and promising research to back this up. A 2017 study compared a 0.2% caffeine liquid with a 5% Minoxidil (an FDA approved active to treat baldness) solution and found that "a caffeine-based topical liquid should be considered as not inferior to minoxidil 5% solution in men with androgenetic alopecia", or English translation means that the caffeine liquid was pretty much as good as the FDA-approved Minoxidil stuff. Not bad!
Overall, we think that caffeine is a very versatile and biologically active ingredient. Even though some of its effects are more hyped up than backed up, it is still a nice to have on many ingredient lists.
Show me some proof
Amnuaikit, Thanaporn, Duangkhae Maneenuan, and Prapaporn Boonme. "Evaluation of Caffeine Gels on Physicochemical Characteristics and In Vivo Efficacy in Reducing Puffy Eyes." (2011).
Bussoletti, C., M. V. Tolaini, and L. Celleno. "Efficacy of a cosmetic phyto-caffeine shampoo in female androgenetic alopecia." Giornale italiano di dermatologia e venereologia: organo ufficiale, Societa italiana di dermatologia e sifilografia (2018).
Dhurat, Rachita, et al. "An Open-Label Randomized Multicenter Study Assessing the Noninferiority of a Caffeine-Based Topical Liquid 0.2% versus Minoxidil 5% Solution in Male Androgenetic Alopecia." Skin pharmacology and physiology 30.6 (2017): 298-305.
Herman, A., and A. P. Herman. "Caffeine's mechanisms of action and its cosmetic use." Skin pharmacology and physiology 26.1 (2013): 8-14.
Products with a known amount of Caffeine
Other products with Caffeine