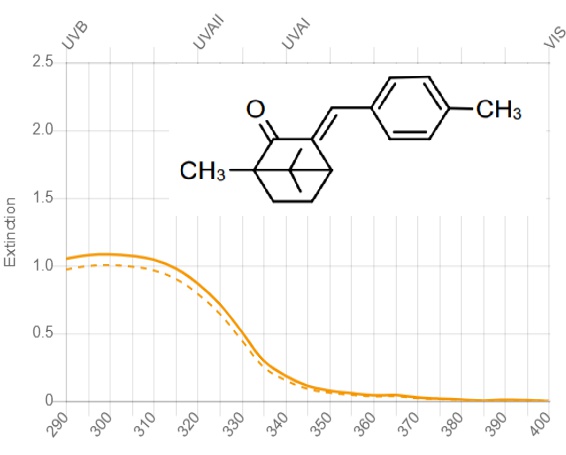 4-Methylbenzylidene Camphor
icky
Also-called-like-this:
Enzacamene
Details
4-Methylbenzylidene Camphor is a chemical sunscreen agent that protects in the UVB range (290-320 nm) with a peak absorbance at 301 nm. It is an oil-soluble powder that is slightly photo-unstable (it takes 65 minutes to lose 10% of its protecting power and 345 minutes to lose half of it), but it can still help to stabilize the famously unstable UVA filter, avobenzone.
Regarding its safety, we do not have the best news. Two possible concerns are that it absorbs into the body and might have some estrogenic activity there. But do not panic, the latter one was only shown in rats and is probably not the case in humans, and 4-Methylbenzylidene Camphor is considered safe as used. It is legally approved both in the EU and Australia up to 4%, however, it is not approved in the US and in Japan.
Overall, we think there are better UVB filter choices out there than this guy, but if your favorite sunscreen contains it, you should probably just continue to use it.
Show me some proof
Schlumpf, Margret, et al. "Estrogenic activity and estrogen receptor β binding of the UV filter 3-benzylidene camphor: Comparison with 4-methylbenzylidene camphor." Toxicology 199.2-3 (2004): 109-120.
Pharmazie 62: 449–452 (2007), Study of the efficacy of 18 sun filters authorized in European Union tested in vitro
Products with 4-Methylbenzylidene Camphor