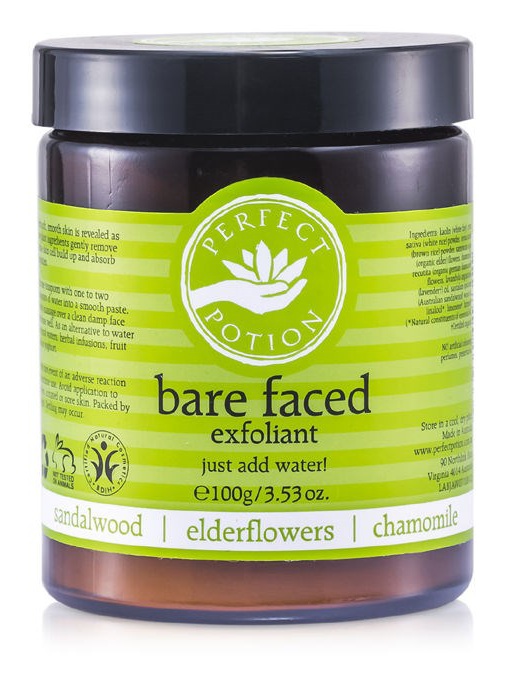 Fresh soft, smooth skin is revealed as pure plant ingredients gently remove surface skin cell build up and absorb impurities .
Uploaded by: mikaelajenk on
Perfect Potion Bare Faced Exfoliant

Ingredients explained

Kaolin is a type of clay or to be precise, a naturally occurring hydrous aluminum silicate. When you hear clay, you probably think of a muddy greenish-black mess, but that one is bentonite, and this one is a fine, white powder. It is so white that it's also often used, in small amounts, as a helper ingredient to give opacity and whiteness to the cosmetic formulas.

As a clay, it's absorbent and can suck up excess sebum and gunk from your skin, but less so than the more aggressive bentonite. As it's less absorbent, it's also less drying and gentler on the skin, so it's ideal for dry and sensitive skin types.
We don't have description for this ingredient yet.
We don't have description for this ingredient yet.
We don't have description for this ingredient yet.
We have to start by writing how fascinated we are by the amazing lavender fields of Provance and we do love pretty much everything about lavender: its look, its color, its scent.... but, when it comes to skincare, lavender is a questionable ingredient that you probably do not want in your skincare products.
First, let us start with the pros: it has a lovely scent, so no wonder that it is popular as a fragrance ingredient in natural products wanting to be free from synthetic fragrances but still wanting to smell nice. The scent of lavender is famous for having calming and relaxing properties and some smallish scientific studies do support that. Inhaled volatile compounds seem to have a soothing effect on the central nervous system and studies have shown that lavender aromatherapy can improve patient's anxiety and experience in hospitals.
We don't have description for this ingredient yet.
Linalool is a super common fragrance ingredient. It's kind of everywhere - both in plants and in cosmetic products. It's part of 200 natural oils including lavender, ylang-ylang, bergamot, jasmine, geranium and it can be found in 90-95% of prestige perfumes on the market.
The problem with linalool is, that just like limonene it oxidises on air exposure and becomes allergenic. That's why a product containing linalool that has been opened for several months is more likely to be allergenic than a fresh one.
A super common and cheap fragrance ingredient. It's in many plants, e.g. rosemary, eucalyptus, lavender, lemongrass, peppermint and it's the main component (about 50-90%) of the peel oil of citrus fruits.
It does smell nice but the problem is that it oxidizes on air exposure and the resulting stuff is not good for the skin. Oxidized limonene can cause allergic contact dermatitis and counts as a frequent skin sensitizer.
With a sweet, light and floral scent, Farnesol is a popular fragrancing ingredient to make your cosmetics that bit nicer to use. It starts its life as a colorless liquid that can either be synthetically created or extracted from loads of plants like citronella, neroli, ylang-ylang, and tuberose.
The reason we list it as icky is because Farnesol is one of the "EU 26 fragrances" that has to be labeled separately (and cannot be simply included in the term "fragrance/perfume" on the label) because of allergen potential, so it is best avoided if you have super sensitive skin.
You may also want to take a look at...
A type of clay that's a fine, white powder and is used for its oil-absorbing and opacifying properties. It's less absorbent and less drying than bentonite clay.
[more]
Lavender - essential oil with a calming scent and antimicrobial properties. Contains fragrant components (linalyl acetate - 50% and linalool - 35%) and might be cytotoxic from 0.25%.
[more]
A super common fragrance ingredient that can be found among others in lavender, ylang-ylang, bergamot or jasmine. The downside of it is that it oxidises on air exposure and might become allergenic.
[more]
A super common fragrance ingredient found naturally in many plants including citrus peel oils, rosemary or lavender. It autoxidizes on air exposure and counts as a common skin sensitizer.
[more]
With a sweet, light and floral scent, Farnesol is a popular fragrancing ingredient to make your cosmetics that bit nicer to use. It starts its life as a colorless liquid that can either be synthetically created or extracted from loads of plants like citronella, neroli, ylang-ylang, and tuberose.The reason we list it as icky is because Farnesol is one of the "
[more]