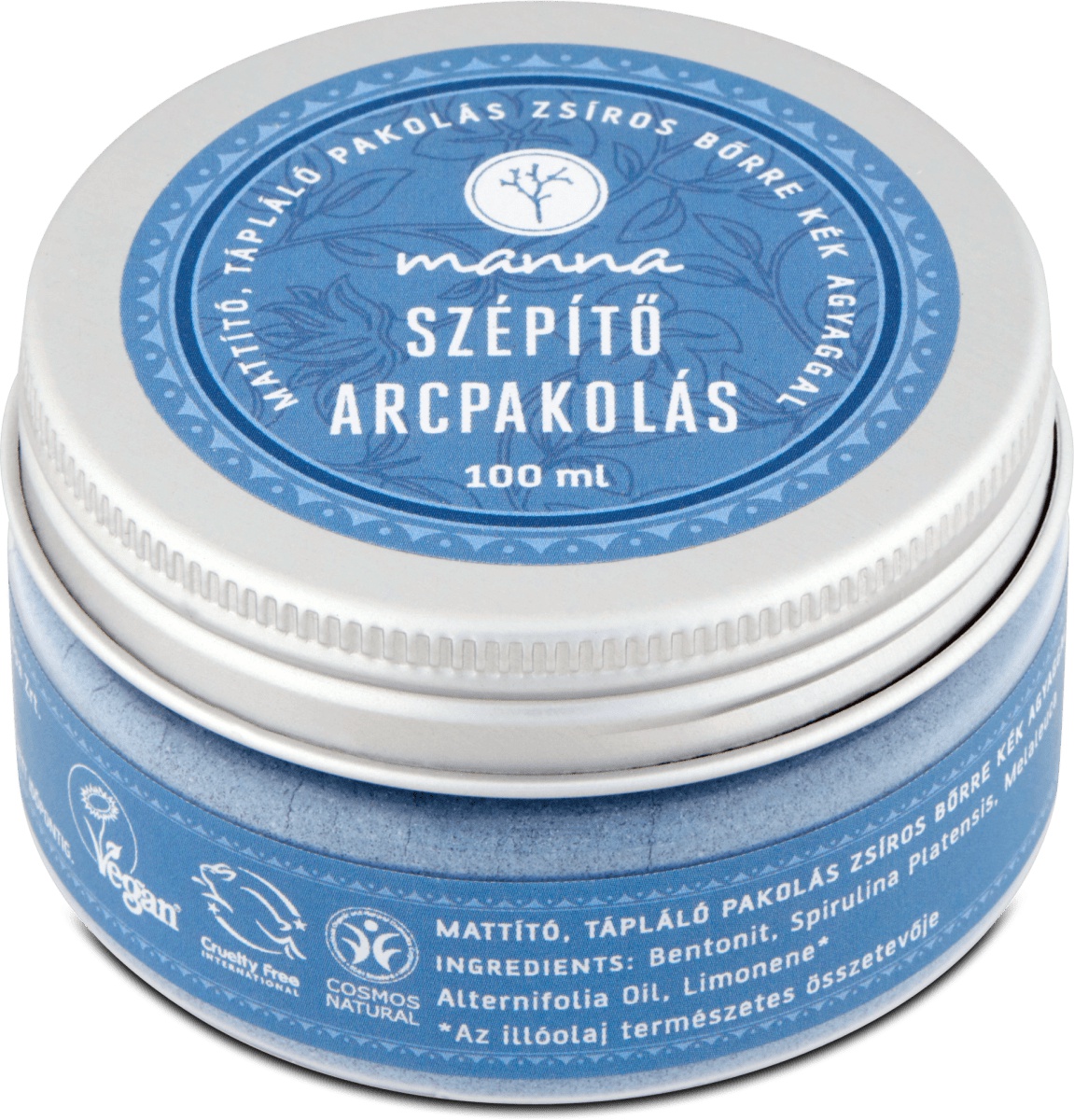 Powder face mask with blue clay to mattify and nourish oily skin.
Uploaded by: evi00 on
Manna Szépítő Arcpakolás

Ingredients explained

When it comes to oil-absorbing clay masks, bentonite will probably be one of the first ingredients on the INCI list. Technically bentonite clay is mostly montmorillonite + something else, and thanks to the something else bit, bentonite comes in different types and colors.

The color depends on the mineral content of the clay: white bentonite is rich in boron and fluoride, yellow is rich in manganese and zinc, green is rich in copper, zinc, and manganese and the pink clay is rich in boron.

No matter the color, bentonite is excellent at absorbing things: it can suck up the sebum and gunk from the skin and make it instantly smooth and matte. Not only that, but bentonite has a negative ionic charge and thus can attract things with a positive charge. Things with a positive charge include bad bacteria and toxins and bentonite clay masks can help to clear those out of the skin and pores (btw, bentonite is edible and has the same detoxifying effect internally).

Thanks to bentonite's effect against bad bacteria and pathogens, there is also some research showing that bentonite can help to calm skin infections, soothe skin allergies and might work for skin conditions like psoriasis and eczema.

On the other hand, the downside of bentonite being such a good absorbent is that it can suck up more than the excess sebum and used too often, it can easily dry out the skin. So use it for good measure, and never forget to moisturize afterwards.
We don't have description for this ingredient yet.
The famous tea tree oil. One of the best known essential oils which comes from Australia where it has been used for almost 100 years for its antiseptic and anti-inflammatory actions. Legend has it that the medicinal benefits of the oil were considered so important that Australian soldiers were supplied with some tea tree oil in their World War II military kit.
Similar to other essential oils, tea tree oil is a very complex chemical mixture consisting of about 100 components, the major ones being terpinen-4-ol (40%), γ-Terpinene (23%) and α-Terpinene (10%). Terpinen-4-ol is considered to be the main active component but as a great article in Clinical Microbiology Reviews states "while some TTO components may be considered less active, none can be considered inactive" and most components contribute to TTO's strong antibacterial, antiviral and antifungal effects.
Regarding skincare and tea tree oil, its most well-known effect is probably being a well established anti-acne ingredient. Multiple studies confirm that TTO is effective against the evil acne-causing bacteria called P. acnes and the effectiveness of 5% TTO gel is comparable to the gold standard anti-acne treatment, 5% Benzoyl Peroxide lotion. You need to be a bit more patient with TTO, though, as its effects come slower but also with fewer side effects.
Regarding TTO and sensitive skin, we say that you should be careful. Even if your skin is not sensitive you should never put undiluted TTO on your skin. Luckily, it contains only very small amounts of the common allergens (such as limonene), but irritant and allergic reactions still happen, especially by oxidation products that occur in older or not properly stored oil. So if you have some pure TTO at home, know that storage matters, keep it in a cool, dry, dark place and use it up in a reasonable amount of time.
Overall, we do not often give a goodie status to essential oils, but we feel that TTO's unique antibacterial and anti-acne properties with its minimal allergen content warrant an exception. If your skin is acne-prone, TTO is something to experiment with.
A super common and cheap fragrance ingredient. It's in many plants, e.g. rosemary, eucalyptus, lavender, lemongrass, peppermint and it's the main component (about 50-90%) of the peel oil of citrus fruits.
It does smell nice but the problem is that it oxidizes on air exposure and the resulting stuff is not good for the skin. Oxidized limonene can cause allergic contact dermatitis and counts as a frequent skin sensitizer.
Limonene's nr1 function is definitely being a fragrance component, but there are several studies showing that it's also a penetration enhancer, mainly for oil-loving components.
All in all, limonene has some pros and cons, but - especially if your skin is sensitive - the cons probably outweigh the pros.
You may also want to take a look at...
A highly absorbent clay that comes in different colors depending on its mineral content. It's excellent at absorbing things including sebum and gunk in the pores and it also has some skin soothing and "detoxifying" effect.
[more]
The famous tea tree oil. One of the best known essential oils which comes from Australia where it has been used for almost 100 years for its antiseptic and anti-inflammatory actions.
[more]
A super common fragrance ingredient found naturally in many plants including citrus peel oils, rosemary or lavender. It autoxidizes on air exposure and counts as a common skin sensitizer.
[more]