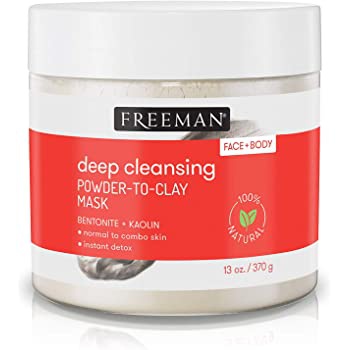 Instant, Deep Cleansing Facial + Body Powder To Clay Mask
Clay mask deep cleanses impurities while instantly detoxing skin.
Uploaded by: skuishyfishy on
Highlights
Fragrance and Essential Oil Free
Freeman Instant, Deep Cleansing Facial + Body Powder To Clay Mask

Ingredients explained

When it comes to oil-absorbing clay masks, bentonite will probably be one of the first ingredients on the INCI list. Technically bentonite clay is mostly montmorillonite + something else, and thanks to the something else bit, bentonite comes in different types and colors.

The color depends on the mineral content of the clay: white bentonite is rich in boron and fluoride, yellow is rich in manganese and zinc, green is rich in copper, zinc, and manganese and the pink clay is rich in boron.

Kaolin is a type of clay or to be precise, a naturally occurring hydrous aluminum silicate. When you hear clay, you probably think of a muddy greenish-black mess, but that one is bentonite, and this one is a fine, white powder. It is so white that it's also often used, in small amounts, as a helper ingredient to give opacity and whiteness to the cosmetic formulas.

As a clay, it's absorbent and can suck up excess sebum and gunk from your skin, but less so than the more aggressive bentonite. As it's less absorbent, it's also less drying and gentler on the skin, so it's ideal for dry and sensitive skin types.
You may also want to take a look at...
A highly absorbent clay that comes in different colors depending on its mineral content. It's excellent at absorbing things including sebum and gunk in the pores and it also has some skin soothing and "detoxifying" effect.
[more]
A type of clay that's a fine, white powder and is used for its oil-absorbing and opacifying properties. It's less absorbent and less drying than bentonite clay.
[more]