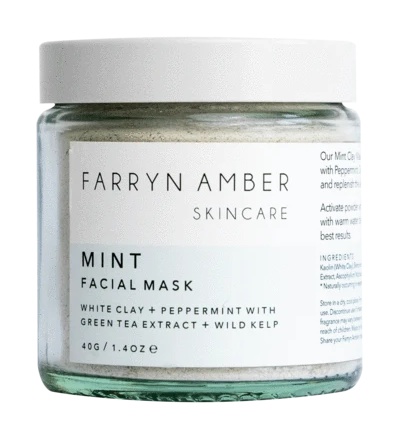 A potent blend of antioxidant rich greens to detoxify and cleanse, leaving your skin feeling smooth and plump.
Uploaded by: evi00 on
Ingredients overview
Warning: This ingredient list contains several ingredient names that do not follow the INCI nomenclature.
Read here for more detail.
Farryn Amber Mint Facial Mask

Ingredients explained

Kaolin is a type of clay or to be precise, a naturally occurring hydrous aluminum silicate. When you hear clay, you probably think of a muddy greenish-black mess, but that one is bentonite, and this one is a fine, white powder. It is so white that it's also often used, in small amounts, as a helper ingredient to give opacity and whiteness to the cosmetic formulas.

As a clay, it's absorbent and can suck up excess sebum and gunk from your skin, but less so than the more aggressive bentonite. As it's less absorbent, it's also less drying and gentler on the skin, so it's ideal for dry and sensitive skin types.

When it comes to oil-absorbing clay masks, bentonite will probably be one of the first ingredients on the INCI list. Technically bentonite clay is mostly montmorillonite + something else, and thanks to the something else bit, bentonite comes in different types and colors.

The color depends on the mineral content of the clay: white bentonite is rich in boron and fluoride, yellow is rich in manganese and zinc, green is rich in copper, zinc, and manganese and the pink clay is rich in boron.

This ingredient name is not according to the INCI-standard. :( What, why?!
Green tea is one of the most researched natural ingredients
The active parts are called polyphenols, or more precisely catechins (EGCG being the most abundant and most active catechin)
There can be huge quality differences between green tea extracts. The good ones contain 50-90% catechins (and often make the product brown and give it a distinctive smell)
Green tea is proven to be a great antioxidant, UV protectant, anti-inflammatory, anticarcinogenic and antimicrobial
Because of these awesome properties green tea is a great choice for anti-aging and also for skin diseases including rosacea, acne and atopic dermatitis
Read all the geeky details about Camellia Sinensis Leaf Extract here >>
The extract coming from the giant blown kelp. It contains alginates that give Macrocystis Pyrifera viscosity controlling and thickening properties.
Other than that, there is also a manufacturer claim saying that Macrocystis Pyrifera "increases the vitality of epidermal growth, improves collagen synthesis, and maintains skin elasticity".
We don't have description for this ingredient yet.
You may also want to take a look at...
A type of clay that's a fine, white powder and is used for its oil-absorbing and opacifying properties. It's less absorbent and less drying than bentonite clay.
[more]
A highly absorbent clay that comes in different colors depending on its mineral content. It's excellent at absorbing things including sebum and gunk in the pores and it also has some skin soothing and "detoxifying" effect.
[more]
Green Tea - one of the most researched natural ingredients that contains the superstar actives called catechins. It has proven antioxidant, anti-inflammatory, antimicrobial and anticarcinogenic properties.
[more]
Extract from the giant brown kelp. It has thickening properties and might also have some skin-protecting, anti-aging abilities.
[more]