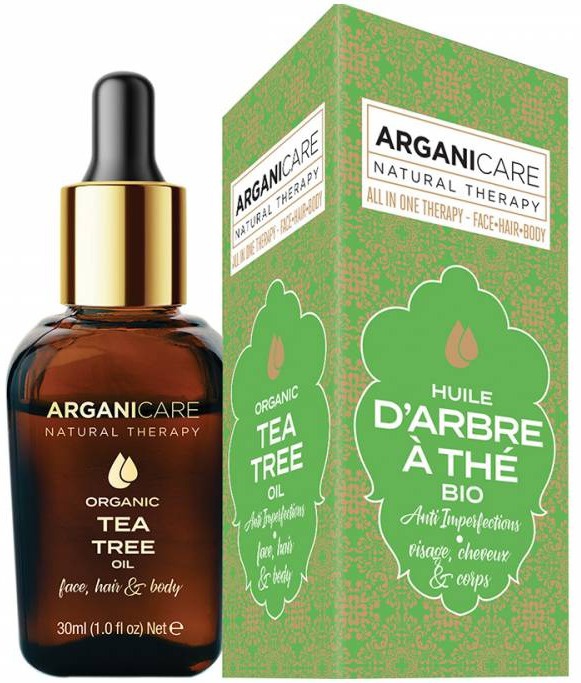 Organic tea tree oil. Suitable for combination to oily skin. Anti-fungal, antibacterial and healing. A good remedy for acne. Regulates the scalp and refreshes dull hair. Very effective against itching, eczema and dandruff.
Uploaded by: pinkie on
ARGANICARE Tea Tree Oil

Ingredients explained

Also-called:

Jojoba Oil

|

What-it-does:

emollient

|

Irritancy:

0

|

Comedogenicity:

0-2

Jojoba is a drought resistant evergreen shrub native to South-western North America. It's known and grown for jojoba oil, the golden yellow liquid coming from the seeds (about 50% of the weight of the seeds will be oil).

At first glance, it seems like your average emollient plant oil: it looks like an oil and it's nourishing and moisturizing to the skin but if we dig a bit deeper, it turns out that jojoba oil is really special and unique: technically - or rather chemically - it's not an oil but a wax ester (and calling it an oil is kind of sloppy).

So what the heck is a wax ester and why is that important anyway? Well, to understand what a wax ester is, you first have to know that oils are chemically triglycerides: one glycerin + three fatty acids attached to it. The fatty acids attached to the glycerin vary and thus we have many kinds of oils, but they are all triglycerides. Mother Nature created triglycerides to be easily hydrolyzed (be broken down to a glycerin + 3 fatty acid molecules) and oxidized (the fatty acid is broken down into small parts) - this happens basically when we eat fats or oils and our body generates energy from it.

Mother Nature also created wax esters but for a totally different purpose. Chemically, a wax ester is a fatty acid + a fatty alcohol, one long molecule. Wax esters are on the outer surface of several plant leaves to give them environmental protection. 25-30% of human sebum is also wax esters to give us people environmental protection.

So being a wax ester results in a couple of unique properties: First, jojoba oil is extremely stable. Like crazy stable. Even if you heat it to 370 C (698 F) for 96 hours, it does not budge. (Many plant oils tend to go off pretty quickly). If you have some pure jojoba oil at home, you should be fine using it for years.

Second, jojoba oil is the most similar to human sebum (both being wax esters), and the two are completely miscible. Acne.org has this not fully proven theory that thanks to this, jojoba might be able to "trick" the skin into thinking it has already produced enough sebum, so it might have "skin balancing" properties for oily skin.

Third, jojoba oil moisturizes the skin through a unique dual action: on the one hand, it mixes with sebum and forms a thin, non-greasy, semi-occlusive layer; on the other hand, it absorbs into the skin through pores and hair follicles then diffuses into the intercellular spaces of the outer layer of the skin to make it soft and supple.

On balance, the point is this: in contrast to real plant oils, wax esters were designed by Mother Nature to stay on the surface and form a protective, moisturizing barrier and jojoba oil being a wax ester is uniquely excellent at doing that.

The famous tea tree oil. One of the best known essential oils which comes from Australia where it has been used for almost 100 years for its antiseptic and anti-inflammatory actions. Legend has it that the medicinal benefits of the oil were considered so important that Australian soldiers were supplied with some tea tree oil in their World War II military kit.

Similar to other essential oils, tea tree oil is a very complex chemical mixture consisting of about 100 components, the major ones being terpinen-4-ol (40%), γ-Terpinene (23%) and α-Terpinene (10%). Terpinen-4-ol is considered to be the main active component but as a great article in Clinical Microbiology Reviews states "while some TTO components may be considered less active, none can be considered inactive" and most components contribute to TTO's strong antibacterial, antiviral and antifungal effects.

Regarding skincare and tea tree oil, its most well-known effect is probably being a well established anti-acne ingredient. Multiple studies confirm that TTO is effective against the evil acne-causing bacteria called P. acnes and the effectiveness of 5% TTO gel is comparable to the gold standard anti-acne treatment, 5% Benzoyl Peroxide lotion. You need to be a bit more patient with TTO, though, as its effects come slower but also with fewer side effects.

Regarding TTO and sensitive skin, we say that you should be careful. Even if your skin is not sensitive you should never put undiluted TTO on your skin. Luckily, it contains only very small amounts of the common allergens (such as limonene), but irritant and allergic reactions still happen, especially by oxidation products that occur in older or not properly stored oil. So if you have some pure TTO at home, know that storage matters, keep it in a cool, dry, dark place and use it up in a reasonable amount of time.

Overall, we do not often give a goodie status to essential oils, but we feel that TTO's unique antibacterial and anti-acne properties with its minimal allergen content warrant an exception. If your skin is acne-prone, TTO is something to experiment with.
You may also want to take a look at...
what‑it‑does
emollient
irritancy, com.

0

,

0

-

2
Jojoba oil - a wax ester (chemically not a real oil), that's very similar to human sebum. It's uniquely excellent at helping the skin with its protective barrier and helping it to stay moisturized.
[more]
The famous tea tree oil. One of the best known essential oils which comes from Australia where it has been used for almost 100 years for its antiseptic and anti-inflammatory actions.
[more]