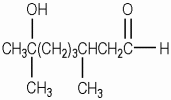 Details
A common fragrance ingredient that has a sweet scent somewhere between lily and fruity melon. Can be found in essential oils, such as lavender oil, orange flower oil or ylang-ylang.
In cosmetics, it can be used up to 1%. It's one of the "EU 26 fragrances" that has to be labelled separately (and cannot be simply included in the term "fragrance/perfume" on the label) because of allergen potential. Best to avoid if your skin is sensitive.
Something incorrect or missing?

Let us know!
Products with Hydroxycitronellal