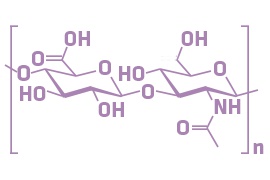 Hydrolyzed Hyaluronic Acid
goodie
Details
Hydrolyzed Hyaluronic Acid is a low molecular weight, chemically chopped up version of the naturally big molecule and current IT-moisturizer, Hyaluronic Acid (HA). The TL; DR version of HA is that it's a huge polymer (big molecule from repeated subunits) found in the skin that acts as a sponge helping the skin to retain water, making it plump and elastic. As HA is a polymer, the subunits can be repeated many times (as a high-molecular-weight version), or just a few times (as a low-molecular-weight version).
We wrote in detail at HA about how different molecular weight versions do different things both as a component of the skin and as a skincare ingredient, so click here and read about all the details. Hydrolyzed Hyaluronic Acid can also come in different molecular-weight versions with different properties:
100-300 kDa version: apart from moisturizing, this size might also help the skin to repair itself by increasing its self-defense. It is also claimed to boost the wound healing process and is especially helpful for sensitive skin types (acne, rosacea, inflammation-related skin diseases).
50k Da version: this is the size that is claimed to be able to absorb into the skin and plump up wrinkles, so it is used mainly as an "anti-aging ingredient"
below 50k, around 10k Da version: there is a Japanese version trade named Hyalo-Oligo that has only a 10k molecular weight and is claimed to penetrate the skin very well, have a unique touch and give deep and long-lasting moisturization. Based on the Evonik-research and the natural role of LMW-HA in the body working as a pro-inflammatory signal molecule, this ultra-low molecular weight version is a controversial ingredient.
If you wanna become a real HA-and-the-skin expert, you can read much more about the topic at hyaluronic acid (including penetration-questions, differences between high and low molecular weight versions and a bunch of references to scientific literature).
Show me some proof
Journal of immunology, 2008 Aug 1, Low Molecular Weight Hyaluronic Acid Increases the Self-Defense of Skin Epithelium by Induction of β-Defensin 2 via TLR2 and TLR4
SOFW Journal, 11-2008, M. Farwick, P. Lersch, G. Strutz (Evonik), Low Molecular Weight Hyaluronic Acid: Its Effects on Epidermal Gene Expression and Skin Ageing
ournal of drugs in dermatology : JDD., June 2013 | Volume 12 | Issue 6, Efficacy and Tolerability of Low Molecular Weight Hyaluronic Acid Sodium Salt 0.2% Cream in Rosacea
Products with Hydrolyzed Hyaluronic Acid