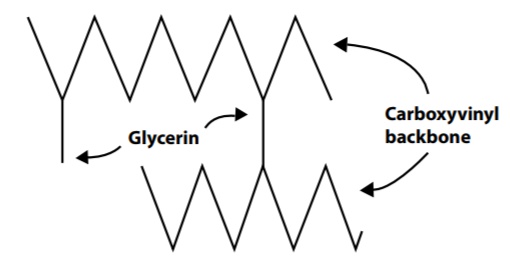 Glyceryl Acrylate/​Acrylic Acid Copolymer
Details
Glyceryl acrylate/acrylic acid copolymer is the fancy word for a common polymer (big molecule from repeated subunits), namely polyacrylic acid (aka carbomer when it comes to cosmetics) with glycerin attached to it in some places.
The main thing of this polymer is that it forms a hydrogel (trade named Lubrajel) that can sit on top of the skin and provide moisturizing, water-soluble ingredients such as glycerin to the skin. Think of it as a very thin, wet sponge that a cosmetic manufacturer can fill with good ingredients for your skin. It also works as a thickening agent (remember, it is a carbomer type of molecule), and can provide the skin with a nice slippery feel. It can also draw water to the skin (thank you, pendant glycerol groups!), providing skin hydration.
Also, don't let people scare you into thinking polyacrylic acid is dangerous because of the toxicity of acrylic acid. Since acrylic acid is dangerous due to its ability to absorb into the skin (since it's small), when you chain them together into a polymer (which is big), this danger is no longer significant.
Show me some proof
"Proven performance and formulation latitude are key benefits offered by Lubrajel* hydrogel and Lubrasil* microemulsion." Ashland, 2012.
Products with Glyceryl Acrylate/​Acrylic Acid Copolymer