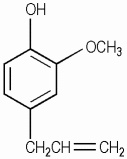 Details
A colorless or yellowish oil that's used as a fragrance. It has a spicy scent and can be found for example in basil, clove or cinnamon oil.
A 2006 in-vitro (made in the lab not on real people) study examined if clove oil is cytotoxic and found that not only clove oil but also its main constituent, eugenol is cytotoxic even at very low concentration (0.03%). It's also one of the "EU 26 fragrances" that has to be labelled separately (and cannot be simply included in the term "fragrance/perfume" on the label) because of allergen potential. Best to avoid at least in leave-on products.
Show me some proof
Cell proliferation., 2006 Aug;39(4):241-8., Cytotoxicity of clove (Syzygium aromaticum) oil and its major components to human skin cells.
Products with Eugenol