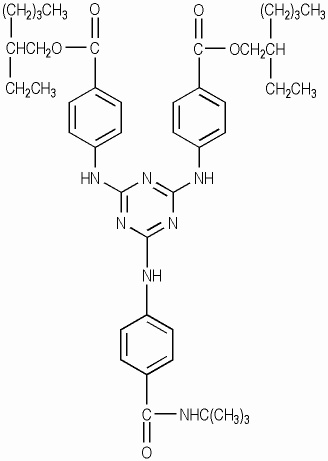 Diethylhexyl Butamido Triazone
Also-called-like-this:
Iscotrizinol, Uvasorb HEB
Details
A chemical sunscreen agent that's very oil soluble and requires relatively low concentrations to achieve high SPF values (it gives an SPF 12.5 at the max allowed concentration of 10%). It protects in the UVB and UVA II range (but not in UVA I) with a peak protection at 310 nm. It's particularly suitable for water-repellent and water-resistant formulations.
Regarding photostability, Diethylhexyl Butamido Triazone is super photostable. It looses 10% of its SPF protection abilities only in 25 (!!) hours when 2 hours counts already as "photostable" in the world of chemical sunscreens.
Btw, it is not a FDA-approved sunscreen agent, so you will not find it in sunscreens coming from the US. It's allowed up to 10% in Europe and up to 5% in Japan.
Show me some proof
Pharmazie 62: 449–452 (2007), Study of the efficacy of 18 sun filters authorized in European Union tested in vitro
Couteau, Céline, et al. "Study of the photostability of 18 sunscreens in creams by measuring the SPF in vitro." Journal of pharmaceutical and biomedical analysis 44.1 (2007): 270-273.
Products with Diethylhexyl Butamido Triazone