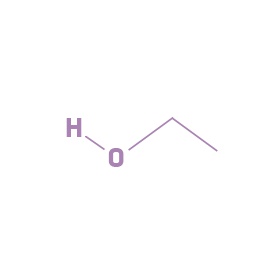 Quick Facts
It's a super common and super debated skincare ingredient
It has several benefits: great solvent, penetration enhancer, creates cosmetically elegant, light formulas, great astringent and antimicrobial
It can be very drying if it's in the first few ingredients on an ingredient list
Some experts even think that regular exposure to alcohol damages skin barrier and causes inflammation though it's a debated opinion (read more in geeky details tab)
Geeky Details
If you want to start a debate between skincare experts, mentioning alcohol will probably be a good way to do that (Btw, denat means denaturated and it's normal alcohol with some additives that make it poisonous and bad tasting so that people do not drink it.). It's a controversial ingredient that has definitely many immediate skincare benefits and some potential longer-term drawbacks.
So let's see first the benefits, why it's so often used. First, it is a great solvent. There are some ingredients that do not dissolve in water or oil and alcohol is often the way to go. Second, it's great at creating cosmetically elegant, fast absorbing, thin formulas. For example creating a nice, non-oily sunscreen is still a big challenge to the cosmetic industry (because sunscreen ingredients are yucky and oily) and alcohol can help with this problem. Third, alcohol is a great astringent, leaves a refreshing feeling on the skin so it's very popular as a toner ingredient. And last but not least, it's antimicrobial, helps to disinfect the skin so it is common in after-shaves or products intended for acne-prone skin. It even works as a preservative that is often used in natural products.
So now let's see what's not so good about it: First, it dries the skin. As an immediate effect for oily skin types that might sound like a benefit, but in the longer term alcohol often dries out the skin so much that the skin compensates with extra oil production. Famous dermatologist, Dr. Leslie Baumann in her Skin Type Solution book suggests avoiding alcohol if it's in the first 7 positions on the ingredient list.
Skin care expert, Paula Begoun thinks that alcohol not only dries the skin but regular exposure to it damages the skin barrier and causes inflammation. Not everyone agrees with this. Nicki Zevola from Futurederm thinks that alcohol evaporates quickly from the skin, can act as a penetration enhancer for key ingredients and is safe to use.
So the bottom line is that alcohol (and to further complicate we are talking only about simple, volatile, low molecular weight alcohols here) is debated. What seems to be a fact is that it's drying but it also has several benefits. Based on that it's up to you to decide if it's something to avoid or not.
Products with Alcohol Denat.