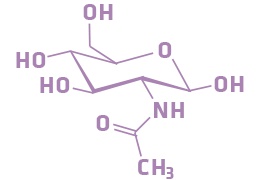 Acetyl Glucosamine
goodie
Details
An amino acid sugar that can be found in the skin and does there good and important things. One of them is that it's a precursor for the biosynthesis of superstar moisturizer, hyaluronic acid. So acetyl glucosamine itself is also an important skin-identical ingredient and natural moisturizing factor.
But that is not all, acetyl glucosamine has two other great properties proved by double-blind clinical trials. First, it's a promising ingredient against wrinkles: 2% can improve wrinkles, particularly in the eye area.
Second, the same amount can also fade - always stubborn - brown spots. (Do not expect magic, though - the photos from the study show the difference after 8 weeks of daily use. The difference is visible, but not that big. It's always good to have realistic expectations. :)) Combined with skincare superstar niacinamide the duo is synergistic and is more effective at improving hyperpigmentation, so if you are after the skin-lightening benefit look out for products that contain both.
Show me some proof
Journal of Cosmetic Dermatology, Volume 5 (4) – Dec 1, 2006, Glucosamine: an ingredient with skin and other benefits
Products with a known amount of Acetyl Glucosamine
Other products with Acetyl Glucosamine